MLC Continuous Motor Pump
Simplified version of the MLA type gear pump for continuous oil distribution
Light weight and compact design, with high discharge rates of varying volumes
Form code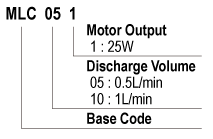 Specifications
MODEL
CODE
Discharge
Pressure(MPa)
Discharge
Vol. (L/min)
Outlet
Size (Rc)
Motor
Output × Pole
Current (A)
50Hz
60Hz
200V
(50Hz)
200V
(60Hz)
220V
(60Hz)
MLC051
0.5
0.51
0.59
1/4
25W × 4P
0.26
0.27
0.27
MLC101
0.5
0.93
1.06
1/4
25W × 4P
0.26
0.27
0.27
※The  25W  motors  can  operate  using  200,  220,  230Volts
(50Hz – 0.26A) or 200, 220, 230, 240Volts (60Hz – 0.27A).
※3 phase 200V 50Hz, 200V 60Hz and 220V 60Hz are the standard.    Different power specifications also available.
※Class E insulation
※After wiring, ensure the motor rotates in the correct direction.
※Current (A) values conform to NIDEC (motors above 200W).
Drawing